Public Arts
Public Art Installations
Partners: Madison Area Arts Alliance, Madison Public Arts Commission in addition to Madison Consolidated Schools, CRM (Sunrise Crossing developer) and sculptor, Dale Rogers
Location: Sunrise Crossing, Gateway and Bicentennial Park
Project Summary:
Bird Man: (in partnership with CRM - Sunrise Crossing developer)
Created by sculptor Dale Rogers who will be an artist in residence at Madison Junior High twice during the next year
Madison Junior High School students will be creating storylines describing who Bird Man is
Madison Cub Industries will be creating smaller sculptures inspired by Dale Rogers work, which will be placed throughout the Madison School District
Flight
Partnering with Madison Area Arts Alliance to submit a grant to the community foundation for the temporary art exhibit
Dale Rogers will be setting up 12 birds that will stay in Bicentennial Park from the end of March to October
One bird will be a permanent art installation in Bicentennial Park, if funding allows
GATEWAY Art Project
The commission is reviewing the RFQ for Indiana Artist for the 3-dimensional public art to be installed at the Madison/Indiana Gateway project.
Anticipated Project Schedule:
FLIGHT - Install March - October 2023
BIRDMAN - Install September 2023
GATEWAY - RFQ for artist Q1, 2023. Final design Q3. Install Q4 2023 - Q1 2023.
Estimated Costs: GATEWAY Art: $200,000 ($100,000 READI, $100,000 Fundraise and Grants)
Funding Sources: $25,000 annually will be invested into art and maintenance by the RDC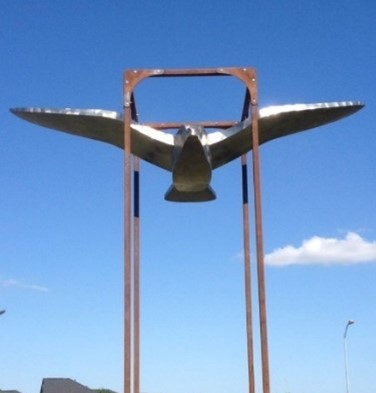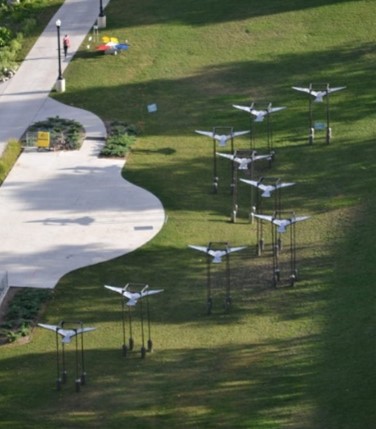 Contact Us